Everyone wants a straight smile, but are braces worth it? This dilemma started in 1819 when Christophe Delabarre invented braces. While effective for the past 200 years, isn't it time for an upgrade? If you agree, you're not alone. At District Orthodontics of South Jordan, we believe in Invisalign- an invisible, sleek, removable 3D-printed aligner that can straighten your smile in record time. With state-of-the-art technology, we provide the highest quality of Invisalign in South Jordan, Utah!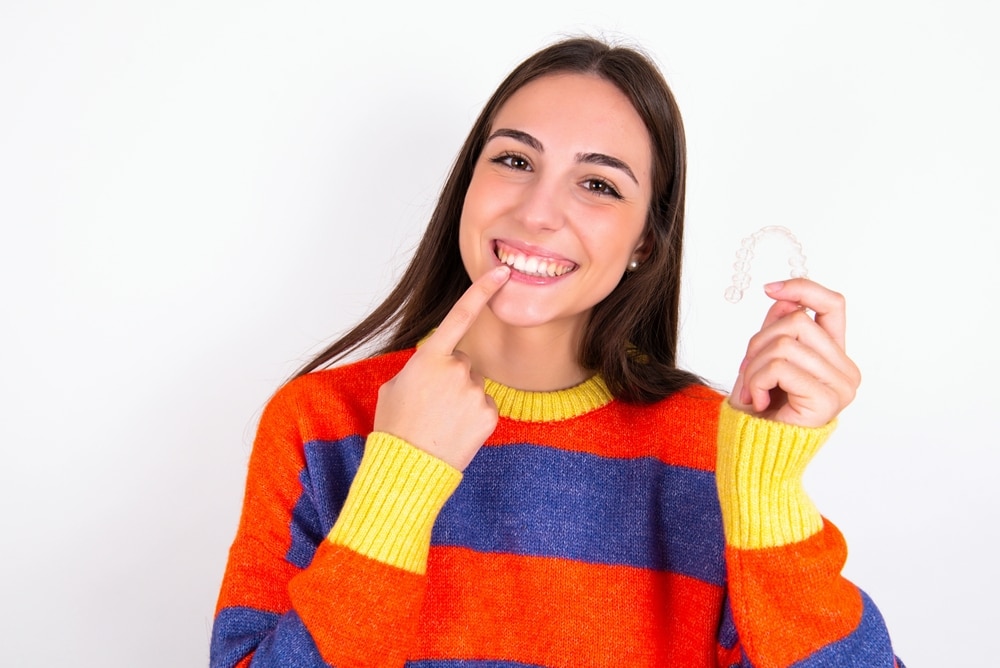 What is Invisalign?
Invisalign is an orthodontic treatment that uses a series of clear, removable aligners to straighten teeth gradually. It is an excellent alternative to traditional metal braces, as it is much less noticeable, more comfortable, and more convenient. Invisalign is often used to correct mild to moderate alignment issues, such as crooked teeth, overbite, underbite, crossbite, and gaps between teeth.
What are the Benefits of Invisalign?
Invisalign has several key benefits over traditional metal braces. First, the aligners are virtually invisible, making them much less noticeable than conventional braces. Since the aligners are removable, keeping teeth clean is much easier, as you can remove the aligner and brush and floss your teeth as usual. Invisalign does not require painful tightening or adjustments, as the aligners gradually move teeth into the desired position. Finally, Invisalign is much more convenient than traditional braces, as you can remove the aligners for special occasions, such as weddings or job interviews.
The Process of Getting Invisalign
Getting Invisalign typically begins with an initial consultation with your orthodontist. During this consultation, your orthodontist will discuss your goals and assess your teeth to determine if you are a good candidate for Invisalign. If you are a candidate, your orthodontist will take impressions of your teeth and create a customized treatment plan.
Once the treatment plan is complete, we will fit you with your first set of aligners. You will wear the aligners for two weeks at a time, and you can remove them for eating and brushing. You will need to visit your orthodontist every six weeks to monitor your progress and get new aligners.
The duration of treatment with Invisalign varies depending on your situation, but it typically takes between six and eighteen months. After you complete the treatment, we will fit you with a retainer to ensure that your teeth remain in their new alignment.
Overall, Invisalign is an excellent orthodontic treatment that can provide a discreet, comfortable, and convenient way to straighten teeth. With Invisalign, you can have the smile you have always wanted without the hassle and discomfort of traditional metal braces. If you are considering Invisalign, discuss your options with your orthodontist, Dr. Young, to determine if it is the best option for you.
How to Care for Your Invisalign Aligners?
Caring for your Invisalign aligners is essential for maintaining good oral hygiene. To clean your Invisalign aligners, brush them daily with a soft-bristled toothbrush and toothpaste to remove plaque and food particles. You can also soak your aligners in denture cleaner or white vinegar for 15 minutes and then brush them with a soft-bristled toothbrush to remove any buildup. It's important to avoid using hot water as it can warp the plastic. Additionally, ensure to rinse your aligners with cold water after each use and store them in the case provided by your orthodontist to keep them safe. Finally, brush your teeth thoroughly to keep your mouth healthy after each use.
Invisalign in South Jordan, Utah
With Invisalign, it's never been easier to get a straight smile! Invisalign offers an elegant solution to anybody who wishes to align their smile professionally and discreetly. Our orthodontist, Dr. Young, is an orthodontic expert with years of relevant experience. Backed by an excellent team and the most advanced technology, your teeth have a bright future with us.
Ready to upgrade your smile? Schedule an appointment here.