At District Orthodontics of South Jordan, we specialize in giving you a smile to be proud of every day. With our various treatments, we offer the highest quality metal braces in South Jordan, Utah. After all, metal braces are for anyone looking to upgrade their smile and improve their appearance. There's a reason all Hollywood stars prioritize their smiles! With Dr. Young's exceptional team and the best equipment available, it's little wonder our reviews are so high. 
If you could click a button to straighten your teeth forever, would you? What if I told you that button exists? It's called scheduling an appointment here.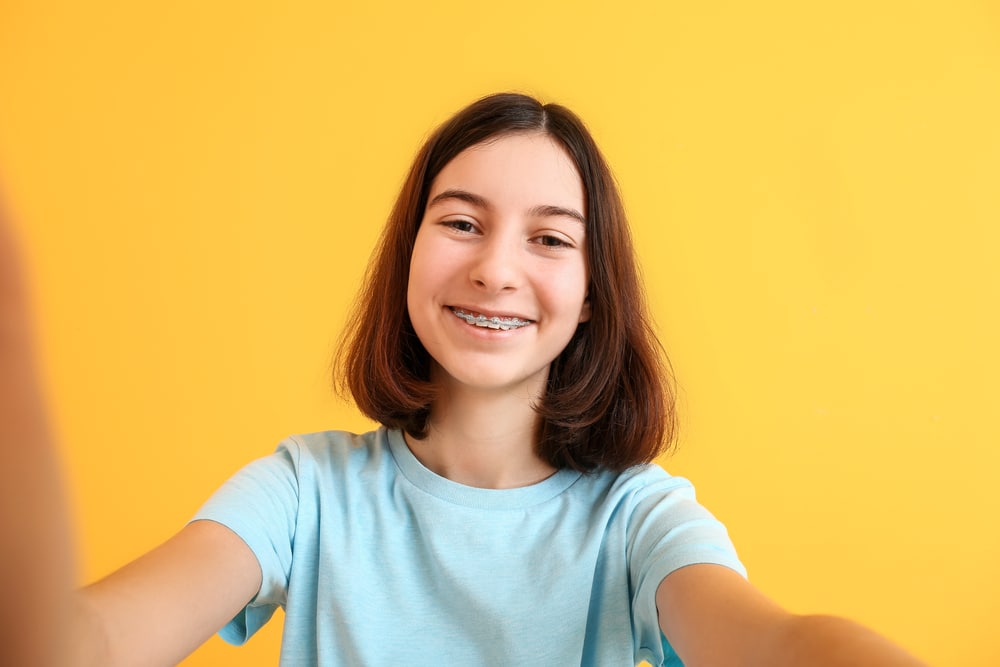 What are Metal Braces? 
Metal braces are among the most common orthodontic procedures, with over 4 million users in the USA. Metal braces are orthopedic devices made from high-grade, stainless-steel brackets for straight teeth. Rubber elastic bands are woven into the brackets and connected with wires that we need to tighten regularly.
How do Metal Braces Work? 
Metal braces use consistent and gradual pressure to change the position of teeth. As your teeth sit on soft tissue made of periodontal ligaments, we can compress and form new tissue patterns to reinforce a permanent, straight smile. 
Pros of Metal Braces:
Are you unsure if metal braces are worth it? For millions of people, yes! After all, metal braces have been in use since 1819. Here are a few reasons why:
Can handle extreme misalignments.

Unlike Invisalign and other braces, metal braces are the go-to solution for severely crooked teeth.

 
More affordable.

Metal braces are an oldie but a goodie and offer all the benefits at an affordable rate. 

Braces can't be lost.

Kids lose everything, but they can't lose braces! Safeguard your investment with a foolproof orthodontic solution.

Highly customizable.

The brackets and elastics can be colored and customized, which is a fun bonus for younger patients.

 
Durable.

Metal braces are just that- metal. We craft our metal braces from medical-grade, stainless steel that will survive the apocalypse.

  
A straight smile!

Metal braces offer the same result as every other treatment: an attractive, straight smile. Whether looking for a job promotion or getting married, metal braces can turn your smile into a sparkling sensation. 
What is the Process of Getting Metal Braces?
Getting metal braces from Dr. David Young at District Orthodontics is quite straightforward. To start, you will have an initial consultation with Dr. Young to discuss your orthodontic needs and any questions you may have. During the initial consultation, Dr. Young will examine your mouth, discuss your treatment options and explain the process for getting braces. If you decide to move forward with metal braces, Dr. Young will customize them to fit your teeth and mouth and ensure they are comfortable for you. Once we place the braces, Dr. Young will provide detailed instructions on how to care for your braces and what to expect during treatment. In addition, you will be scheduled for regular checkups with Dr. Young to monitor your progress and make any necessary adjustments.
How to Care for Your Metal Braces
Caring for metal braces is simple. First, it's essential to brush and floss your teeth regularly – at least twice a day. After brushing, you should use a soft toothbrush to clean the braces gently. Using a special orthodontic toothbrush to clean around and under the wires would be best. Additionally, using a fluoride-free mouthwash is vital to reduce the risk of staining. Finally, avoiding eating hard, crunchy, chewy, or sticky foods that can damage the braces is essential. As recommended, scheduling regular dental checkups and cleanings is a must to ensure the braces are working correctly.
Metal Braces in South Jordan, Utah
With metal braces, Dr. Young will make your smile feel young again! In a world with so many orthodontic treatments, metal braces offer a traditional, effective method for straight teeth. Customizable and durable, our braces can straighten even the most severe crooked teeth. With an exceptional team and the most advanced equipment, we'll leave you smiling about your smile every time.
It's never too late to stun the world with your smile. Schedule an appointment today.