Is it Possible to Have Braces for Less Than a Year?
Are you looking for the perfect smile? District Orthodontics is here to help! We provide braces that offer greater comfort, convenience, and results in less time. We can even help you finish braces in less than a year in South Jordan, Utah. 
Our highly specialized and experienced team is dedicated to ensuring our patients leave with a beautiful new smile. We can ensure that your orthodontic needs are handled quickly and efficiently with state-of-the-art technology. And all without sacrificing quality – you'll get the same great results as traditional treatments but often in much less time. Plus, with personalized attention from our friendly staff members, you'll never feel alone during your journey.
Book an appointment at District Orthodontics of South Jordan today and start working towards your dream smile! We'll help you explore the outcomes and factors associated with short-term orthodontic treatment so that you can make informed decisions about your smile.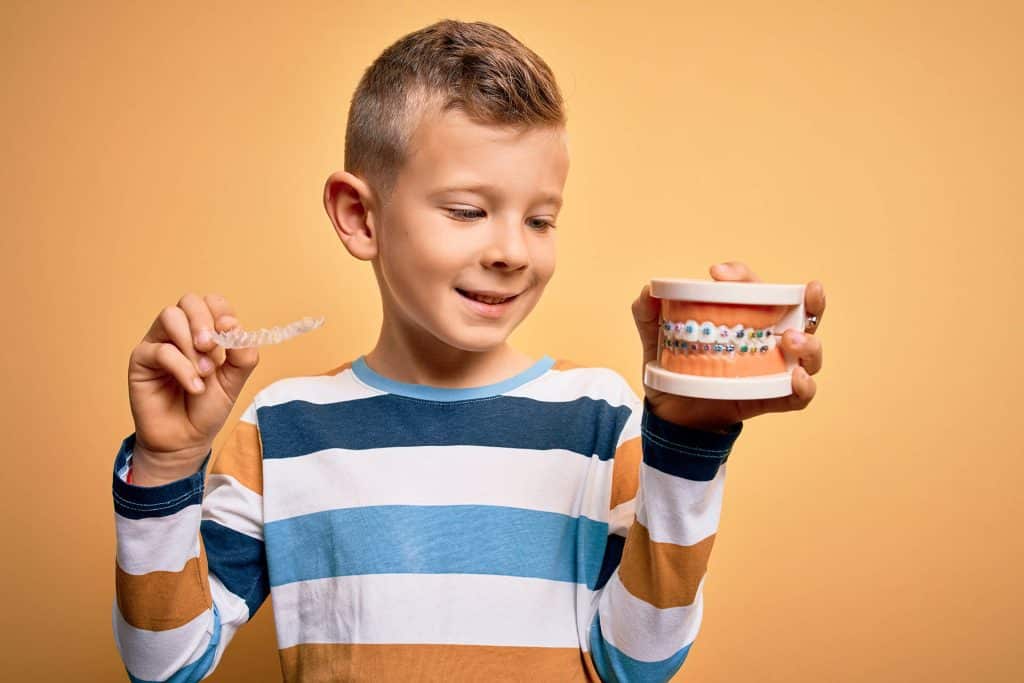 Fast Braces Treatment
Deciding to get braces is a big decision. There are several factors to consider, from the treatment duration to cost, before taking the orthodontic plunge. One common concern among prospective patients is how long they'll need to have their braces on. The good news is that for some, it's possible to have braces for less than a year. 
The duration of braces treatment primarily depends on individual orthodontics needs and the severity of the problem, which Dr. David Young can determine. And we offer many orthodontic treatment options, such as traditional braces, clear aligners, or Damon braces, to help decrease the duration of orthodontic treatment. 
Another factor that contributes to the duration of orthodontic treatment includes patient compliance. Dr. Young may provide you with a treatment plan and tips on maintaining good oral hygiene while wearing braces. It is essential to follow these guidelines regularly to maintain proper teeth alignment and reduce the treatment interval.
Invisalign
Invisalign clear aligners target specific orthodontic problems, allowing Dr. Young to shift the teeth into their proper alignment in a shorter period than traditional braces. Transforming your smile has never been easier with Invisalign. This revolutionary set of clear aligners will straighten your teeth without the hassle of conventional metal braces. 
Invisalign is a popular choice for adults and teenagers alike because of its virtually invisible appearance. You won't have to hide your smile while undergoing treatment. Plus, Invisalign aligners are removable, so you can continue to eat your favorite foods without worrying about damage to the aligners. 
With Invisalign, you'll love your smile both during and after treatment. And Invisalign treatment can be faster than with traditional braces, sometimes taking less than a year. Say goodbye to conventional wire braces and hello to the future of teeth straightening with Invisalign.
The Damon System
And if you are looking for a state-of-the-art orthodontic treatment to enhance your smile, consider the Damon System at District Orthodontics of South Jordan. The Damon system can provide comprehensive orthodontic treatments that will surpass your expectations. This groundbreaking orthodontic solution utilizes a unique passive self-ligation technique that eliminates the need for binding force, cords, and ties. As a result, patients can enjoy faster results, gentler tooth movement, and a more comfortable treatment experience overall. District Orthodontics of South Jordan takes pride in offering the Damon System to patients looking to achieve optimal oral health and a confident smile.
Traditional Braces
Traditional braces have been a staple in orthodontics for decades, and there's no question why. Straightening teeth with conventional braces is a tried-and-true method that has stood the test of time. It's well-known that braces can help correct issues with crooked teeth and misaligned bites, but many people might not realize just how quickly they can work. 
With the right treatment plan and cooperation from the patient, traditional braces can effectively straighten teeth in just a matter of months. It's not uncommon for a patient to complete their entire treatment in less than a year, which is an incredibly short amount of time when you consider the benefits of having a healthy, beautiful smile for the rest of your life.
Braces in Less than a Year South Jordan
If you have orthodontic problems, seeking expert advice from the orthodontists at District Orthodontics for your treatment options is the first step. With advanced technology, your orthodontic treatment duration can be significantly reduced, minimizing your time wearing braces while achieving the beautiful smile you've always wanted. 
Talk to the experts at District Orthodontics and get insights into which option is best for you. Remember, a perfect smile is a valuable investment in yourself!